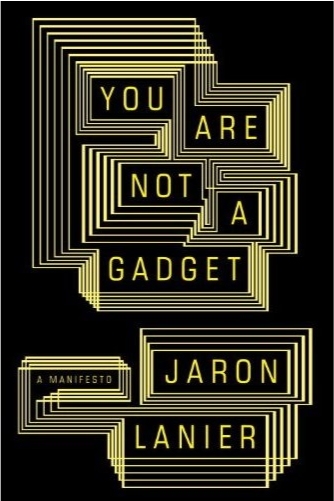 The high­est com­pli­ment I can offer any media cre­ator is that his or her work made me feel some­thing. Then made me think about it. The best books, games, etc. reach such a pin­na­cle by offer­ing a vision of some­thing new, or a new way to look at some­thing.
I don't spend much time online dis­cussing books (sor­ry, goodreads), but I make an exemp­tion here to embrace You Are Not a Gad­get. Liv­ing in the wake of Sil­i­con Val­ley, the suc­cess sto­ries of Google, Face­book, and Zyn­ga sur­round us. I don't ques­tion their suc­cess­es. I've even qui­et­ly absorbed the ele­va­tion of adver­tis­ing over oth­er con­tent, and even some stranger ideas of the Sin­gu­lar­i­ty and the Great Upload. Swim­ming in this idea pool informs the deci­sions of how I eval­u­ate things, and how I devel­op games, includ­ing the one I am work­ing on now.
Car­ry­ing around such pow­er­ful beliefs with­out exam­in­ing them is a bad idea. So con­sid­er this a note of thanks to Lanier for both ter­ri­fy­ing me and inspir­ing. Jon, you kept me engrossed until I turned the last page, even if what you engen­dered was a fear of a future with­out a place for idea­mak­ers.
P.S.: The MIDI obses­sion is inter­est­ing, and I know you're a musi­cian, but let's find some new metaphors for lock-in, eh?